The Lion Inn, Thurne - pub details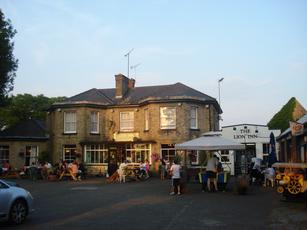 Address: The Street, Thurne, Norfolk, NR29 3AP [map] [gmap]
Tel: 0871 951 1000 (ref 35212) - calls cost 10p per minute plus network extras
Acle (4.1 miles), Brundall (4.1 miles)
Are you the Licensee? Click here. ** SPECIAL Royal Summer Sizzler offer! **
> Current user rating: 3.6/10 (rated by 7 users)
other pubs nearby:
Kings Arms, Ludham (1.7 miles), Broads Haven Tavern, Potter Heigham (1.9 miles)
please note - reviews on this site are purely the opinion of site visitors, so don't take them too seriously.
5 most recent reviews of 6 shown - see all reviews
I think this place may have changed hands a few times... I first visited in about 2003, and remember a decent village pub. I then went again on a day boat from Potters Heigham in August 2018. Most of the comments below seem to be in the middle of this period of time. Certainly on my last visit I couldn't complain. The pub has had a re-fit, was packed, food looked good and beer selection extensive. I can't remember them all, but certainly Oakham Scarlet Macaw, Lacons & Woodford Nelsons Revenge. It must have gone through a bad patch looking at other posts, but I suggest you try it and make your own mind up..

Main reason I have logged in is to express my feelings about this place and what do you know? They are similar to everyone elses!
Went there this weekend with some friends on a stag do (Yes there were a few of us and we were a bit loud at first) but on arrival the landlord ("No, I'm the owner!!!") told us to remove some glasses from the side of one of the outside pool tables (Yes there were signs to this effect) but why? There were multiple tables outside so the risk of broken glass was not increased, spill beer on the pool tables (I hear you say) well they were certainly not world championship standard tables. One had ripped cloth down one side under the cushion as it had shrunk so much in the weather and the other (L-shaped table - nice) was partially collapsing in the middle as the frame appeared to be rotting!
Then we had food and were told to "go to the far room" and just after ordering (And taking our money of course) the landlord (sorry THE OWNER!) came out and accused us of swearing as he'd had 2 complaints so far (In uder 15 minutes) and if we didnt quiten down we'd have to leave. We pointed out we had not been swearing as we realised it was clearly a family area, but being the big man that he was, refused to entertain our side of the story. Shortly after an unknown chap went over to him (Not with our group, totally unprompted), said he'd been sitting on the next table having dinner with his family and he'd heard no swearig at all. At this point the landlord (THE OWNER!!!) said someone must have been lying but we still needed to turn it down, which we did. After this we all met in the bar, joined in with the locals and the evenings music (Couple of blokes on keyboards & guitar) and hopefully made the landlord (OWNER!!! How many more times?) look like he was - rather stupid to put it very politely. It all went so well, the best man even played a couple of songs on one of the musicians guitar to everyones delight as he is a damn good singer/player.
During the course of this evening of singing and dancing with the locals and families it was pointed out to the landlord (Yes... I know...) by many people, none in our group, that we were not here to "kick off" as he put it, but to have a good time. 1130pm we all went back to the boat to relax and enjoy the rest of the evening.

Dear landlord, dont judge us all the same with your miserable, self centred, I'm in charge, cock sure, and equally pathetic atitude. You might score more highly on here then... Although I doubt your highly inflated ego could appreciate it.

Dear everybody else that was in the pub that night (You know who you are), thanks for a great evening, you will be mentioned in the wedding speeches!

Food was fine and the beer equally so.

I will never step foot in this pub again. Went there this year for evening meal. I was served a compleatly flat pint of ale. It looked like it had been poured the day befor.It tasted like vinegar. I asked the barman if he would change it. He replied sternley"thers nothing wrong with it" I asked to see the manager (sid) and was told he was not available. I again asked him to change it. A chap sitting at the bar claiming to be a pal of Sid, said If you dont like it you know where the door is. Not the friendly welcome they advertise.I sent emails to Sid but with no reply I had been going to the Lion for over 15 years while on holiday, but never again

My husband and i went to the Lion INN, Thurne,Norfolk to celebrate our wedding anniversary (16/07/2010) after looking at their website and promise of great food and well over 45 meals to choose from plus specials on the board, very deciving website and photos!
The pub itself is in a lovely quiet norfolk village, next to moorings on the norfolk broads, we live in the area and love the broads and some off the brillient village pubs.
BUT NOT THIS ONE! STAY AWAY !
In reality it is a dirty rotten decaying building, damp smelling rotting dump. The food is TOTALY UN-EDIBLE, Choice limited, could not gaurentee nut-free(I am highly allergic to nuts and can die in minutes), and owner went very angry when we asked this question, a bit like Basil from faulty towers!!!!!! one special on board, mussles. we ordered a 16oz sirlion (no way was the meat sirloin) and asked to make sure lean. (REALITY- a peice of fat,grissle and bone, no way sirlion or any form of steak cut) Placed on top of chips, pre- cooked and warmed up greasy mess served cold, peas- THE SUPERMARKET VALUE TYPE, hard cold. Musrooms, greasy slimy and cold runny mess, side salad brown dead lettuce- thankfully one bit, 2 slices of cuecumber,DRY and curly, 1 cherry tomatoe cut in half, all sprinkled with dried parsley and grease drip stains, served with dirty cuttelry on a dirty wooded bar table. We also ordered the 12 oz sirlion and got the same UN-edible mess, ordered lean and rare, came thin, grissle and fat, burnt and cold at same time. Could not eat,this was so discusting I would not even give it to a DOG, proberly mke a dog very ill. The meal only took 4mins from ordering to arriving, very SUS? The management did know it was our Anniversay, did not care. NO REFUND, NO APOLLOGY. I asked where the ladies toilets were? I was told by a male member of staff not to use the ones in the bar area, as you'd be better off with the ones in the family room, used these and wondered just how bad the bar toiets must be as theese were dirty,dampwood broken skirting boards, no soap,loo roll and very smelly. Other dinesr soon left in discust, plenty of un-eaten meals. Tried a bite of the meat as i was very hungry, woke up this moring with chronic stomach pains and dioreah. Wish i'd had a camera to prove how bad this place really is, and maybe in hindsite for trading standards and food hygene reasons. STAY AWAY AT ALL COST YOUR HEALTH AND YOUR FAMILIES DEPEND ON THIS ADVICE. Out side area run down, cheap broken plastic furniture few old picnic bences. Rip off old arcade,type of shed selling newspapers,milk ect for boats, dirty showers ect. couple off very odd pool tables and dangerous play area in beer garden.
This page requires me to give a star rating, it is un-fit to serve food at this pub it deserves no stars just a health warning and closing down. but to get this online i must give it 1.
Edit - Delete

In agreement with Graham2 - very strange place. Visited earlier this week while on boating holiday. The bar area itself was OK - bog standard pub furnishings, worn furniture, etc.

The real turn-off was my trip to the loo - open the door to the pool room and you're nearly knocked off your feet by the smell of wee. Traverse the corridor to the ladies, passing by a door held ajar by a bucket nearly full from the leak in the ceiling it has been placed there to contain. Continue to hold breath while availing oneself of the facilities which don't look like they've been updated since WW2.

Maybe I just picked an off day to visit but I suspect not, given the length of time that bucket must have been there. After that experience, there was absolutely no way I was going to eat there, so back to the boat for camping food. Could be a great place to stop off if a little bit of investment was made in bringing the place up to hygienic standards.

see more reviews