The Red Lion, Northmoor - pub details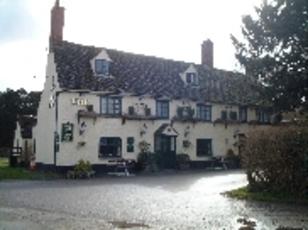 Address: Northmoor, Witney, Oxfordshire, OX29 5SX [map] [gmap]
Tel: 0871 951 1000 (ref 27553) - calls cost 10p per minute plus network extras
> Current user rating: 6.9/10 (rated by 7 users)
other pubs nearby:
Ferryman Inn, Bablock Hythe (1.1 miles), Rose Revived Inn, Newbridge (1.4 miles), Maybush, Newbridge (1.4 miles), Rose Revived, Newbridge (1.4 miles), Bell, Standlake (1.6 miles) - see more nearby pubs
please note - reviews on this site are purely the opinion of site visitors, so don't take them too seriously.
Whenever I have been in the area, I have used the Red Lion because of the good food, good beer and friendly atmosphere. Recently I organised a caravan rally at Northmoor Lock and thought it would be a good idea to organise Sunday lunch at the Red Lion for those who wished to join in. Most caravans arrived on site between 23rd and 25th July so it was difficult to guage numbers.
I contacted the Red Lion on Thursday to see if the could accomodate approximately 12-18 people for Sunday lunch and it was confirmed. However by Friday, the number had risen to 28. Again, I contacted the Red Lion and they confirmed the booking. On the actual day, 2 people who did not want to come originally changed their mind and a further 2 visitors arrived making the total 32 from an original request for 12-18.
Throughout the frequent calls to change numbers, I was treated with the utmost courtesy although it must have been frustrating for the staff.
On the actual day, we arrived slightly late as we had a couple of older members who had to rest occasionally on the walk from the lock to the pub.
The meal we all had was excellent. It was served hot to 32 people at the same time and people commented on the fact that 8 vegetables were served with the meals. The portions were generous and the service excellent. I did not hear one adverse comment from any of the 32 diners. On the contrary. I heard nothing but praise. Lovely meal, good value for money, excellent service, we must bring our friends here etc.
My sincere thanks to the staff & locals at the Red Lion.


Excellant food at excellent prices. 2 course Sunday lunch for £6.95. the beers not bad too.

I am amazed that someone has had a bad meal at The Red Lion !!! In all the years that we have been dining at this establishment I have never had to complain about anything ......... good food, good service, very good value for money and very amiable and friendly staff !! ..... the chef is a young but very experienced woman who keeps herself very much abreast with all the latest cooking techniques. Her steak meals are by far the best in this area, and the best value for money. It intrigues me as to what these ladies, who experienced this most dissapointing encounter with this very popular public house, were drinking that day !!!! maybe to many sherries !!! or perhaps, because all the Little Chefs are now closed, they have to find a new dining experience and chose the Red Lion and expected it to be the same as a Little Chef ...... the chef at the Red Lion is petite but by no stretch of the imagination you could call her little !
For a wonderful evening out wether for dinner or a really good pint of ale you will not go far wrong driving out to The Red Lion, Northmoor.

Very Happy customers ...... Libby & Clive




anonymous - 30 May 2007 17:26
The review submitted by "sellen" dated the 11th May regarding the Red Lion at Northmoor is, in my opinion, unfair and perhaps smacks of a person wishing to deal out some form of vengeance.

In my five years of almost daily experience, The Red Lion is a very welcoming pub serving exceptionally good value, good quality and truly freshly prepared food. Although, as with all things, I have experienced the occasional exception. However, as a local resident of the area I did happen to be in the pub at the time of the visit by this party of 15 (later 16) persons

Having today come across and read the surprising content of an on-line review, it immediately seemed obvious to me, judging by the tone of the review of the 11th May that the person (sellen) who wrote it had somehow been miffed. I was intrigued!!

Having now been to lunch and made some enquiries of my own at the Red Lion, I am now able to report a different side of the same story. . . . . please read on . . . . . . .

Apparently, this outing was organised by a lady we shall call Penny, who had agreed in advance to a menu selection at £10.00 per head to exclude drinks and coffee, but to include unlimited jugs of water. However, Penny the organiser explained to the caterer that she wanted to add £2.00 per head (for whatever her reasons may have been), and so we understand the meals costs were paid, in advance, to the organiser by the members of her group at the price of £12.00 per head. (Given this new information, surely The Red Lion management cannot be held responsible for the prices charged to the members of the group by the organsier of the group!!)

It also turns out that the organiser of the party had been given 5 main course options plus an agreed vegetarian option, this did not include Roast Beef, but Roast Lamb. On the day not 15 persons, but 16 persons arrived, with the last one of them arriving some 30 minutes late. This person was (or should have been embarrassed) holding up the others and the kitchen staff. However, I understand that any such embarrassment was well masked and covered by a load, blustering and rude attitude towards the pub staff. I think we are now able to start to see a different picture emerging here now.

Moving on, and as an example of typical Red Lion Pub prices, I set out below a few examples of what was on the menu board at lunch time today. From this you will see that £10.00 per head including dessert and unlimited jugs of water was not at all unreasonable. The reason for the unlimited Jugs of water was that apparently it had been expressly explained that the party was not interested in buying alcohol. Finally, I understand that someone within this party of ladies had even had the cheek to ask over the telephone if they could bring along their own fruit to eat as a dessert. Eating out on a budget or what?
Under the circumstances, it is easy to understand why the pub catering management had decided to charge a flat 10.00 per meal, as surely they have to be allowed to make a profit somewhere along the line, either from selling alcohol, or food, or both.

TODAY'S MENU PRICES

Salmon and Dill Fishcakes £4.75
Spinach and Riccotta Cannelloni £6.95
Roast of the Day £5.50

Pudding average prices £3.00

P.S.
I am fascinated to know why £12.00 per head was charged to each member of the group by the organiser ?????

P.P.S.
Oh yes, I understand that the organiser of the group was away on holiday on the 11th May the time the review was submitted by "sellen" to beerintheevening.com

Having read this, what do you suspect was the name of the unexpected late arrival, the rude, vociferous, 16th and last person to arrive at the Red Lion Northmoor?

All the best,

Frankie Lee- Darling




anonymous - 30 May 2007 16:07
Report on a weekday pre-booked mael for 15 ladies who were all members of a ,breast cancer group'.

This pub looks lovely on entering. staff seem smiling and friendly. Oh dear, we had a group lunch on a tuesday,paid for in advance 12.00 for 2 courses and coffee. The food was awful. Really very very poor.
on the board was adverised a 2 course sunday lunch 6.99 and week day 5.99.
Why were we charged so much when there was 15 of us with only a choice of three meals? There appeared to be masses of choise on the board. Yet when I asked to change my first choise was told not possible.

As this was a group booking we should have had the meal cheaper not more expensive than a usual weekday meal.e.g. fish cake, awful, chips very ordinary and salade awful.

roast beef, all the many vegatables very over cooked.

All in all very disapointing